The history of Neoton Familia started long ago in 1965 with several young musicians forming a rock band called Neoton (Newton). That was one of the many Hungarian rock bands that played heavily progressive rock at the turn of the 1970s. It was founded by László Pásztor (guitars & vocals; born June 14, 1945) and Lajos Galácz (guitars & vocals), who recruited other musicians to complete the band; however, its line-up was subject to continuous changes. They were joined by Fecó Balázs (vocals, keyboards, organ; born 1948) in 1967, and Ferenc Debreczeni (drums, vocals; born 1948) one year later. In 1968 the band appeared on a "Ki Mit Tud?" Hungarian TV talent show, emerging victorious with a song titled "Nekem eddig Bach volt mindenem" ("Bach Still Means Everything to Me"); another song with lead vocals by Lajos Galácz titled "Kell, hogy várj" ("You Must Wait"), released on a single and broadcasted on radio, brought them their first success. One year later the band recorded one more successful single "Virágének/A fal" ("Singing Flower/The Wall"). Lyrics of Neoton songs were contributed at that time by a Hungarian poet István S. Nagy. The band performed together for a while with an up-and-coming Hungarian singer Klári Katona, who was Lajos Galácz's wife at the time. They were also working closely with a rock band Omega, participating in their 1970 tour as a supporting act. The same year Lajos Som (born 1947), formerly a member of Record and Tűzkerék, became the band's bass player.
In 1971 the band's debut album "Bolond város" ("City of Loons") came out, getting a warm public reception; it was even released in USSR. This album contained twelve rock music tracks, which were innovative for the time, skillfully arranged and characterized by sweet melodies and smooth rhythms. Album sales weren't really good though, so the band decided to go on African tour to promote it, playing shows in Nigeria and Ghana. An English version of "Kell, hogy várj" titled "You Must Wait" got broadcasted on Nigerian radio. However, this didn't bear a desired fruit and some of the band members went back to Hungary even before the tour ended. The band, struggling to maintain popularity, released a few more singles and participated in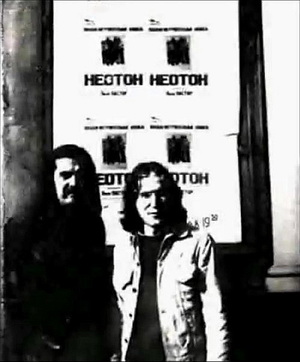 "Táncdalfesztivál" music festival with a song titled "Miért van ez így?" ("Why Is That So?") in 1971. The band's breakup became inevitable though: the same 1971 year Ferenc Debreczeni left the band for Omega and was replaced by Zoltán Ambrus (born 1946), an ex-member of Record like Lajos Som. 
One year later Fecó Balázs and Lajos Som also left the band to create the first Hungarian hard rock band Taurus, putting a question mark over the future of Neoton. However, the band has found replacements for them: keyboard player György Jakab (born 1950), hailing from jazz rock Winkelmayer Brass Band, and bassist János Tiboldy. The band, now reformed, participated in "Táncdalfesztivál" once again with a song titled "Orgonak" ("Organs") and released several new singles, including "Egyszer véget ér az út " ("One Day the Road Ends"), "Nóra " ("Nora") and "Miért vitted el álmaimat" ("Why Were My Dreams Taken From Me"). The latter song was to be Neoton's entry for a "Tessék választani!" talent show. László Pásztor proposed to perform this song together with Kócbabák female trio that recently made an appearance on "Ki mit tud?" TV talent show.
By Mikhail Badanin and Kirill Babanin
Translated into English by Andrey Sinelnikov