The real boom happened in 1981 with the release of the band's most impressive album titled "A Família", which contained proper pop songs such as "Jöjjön a nyár!" ("Come Over in the Summer!"), "Hazudós" ("Liar"; lead vocals by Éva Pál), "Caligula" and superhit "Kétszázhúsz felett" ("Over 220 kmh"), ultimately securing "Neoton Família"'s stardom and title of the best disco band in Eastern Europe. The latter song is regarded as the band's greatest hit to this day. There was only one song titled "Lobo, az idegen" ("Outsider Rider") to remind of the band's disco tag; the most beautiful and lyrical song was pop ballad called "Vadvirág" ("Wildflower"), as powerful and affectionate that words can't do it justice. This album was represented in Hungary by a single "Jöjjön a nyár!" that went platinum; "Szerelmes dal", a song not present on the album, occupied its B-side. An English version of album was released in Germany and Japan; a Spanish version was released in Mexico and Argentina. In Germany "Neoton Familia"'s new album was released by Jupiter Records label, representing also East German "Dschinghis Khan" band. An English version of "Jöjjön a nyár!" titled "The Sound of Summer" wasn't present on the album, being released as single in several countries instead. It was replaced by a song titled "Game of chance", an English version of "Szerelmes dal". "Racing", "Dandelion", "Lobo", "Samson and Delilah" and "Renegade" also were released as singles in Germany, Mexico, Japan and the Philippines. In autumn 1981 the band went on a Japanese tour, playing 42 shows. 
The next album "Szerencsejáték" ("Lucky Game") that came out in 1982 was profound and impactful. Despite being recorded under difficult circumstances (with recording sessions taking course between tours) it became the most elaborate and comprehensive of the band's works. Lovely pop songs like striking "Monte Carlo", graceful pop ballad "Napfogyatkozás" ("Sunset"), Japanese-sounding "Üvegház" ("Glass House"; lead vocals by Éva Pál), catchy ethereal "Nem szállunk ki a hajóból" ("Do Not Abandon the Ship") and "Jöjj el!" ("Who Let the Heartache In") alternate with rockish, grittyish songs like "Tini-dal", "Kell, hogy várj!" ("You Must Wait"), "Rongyszőnyeg" ("Foot-cloth") и "Születésnap" ("Birthday").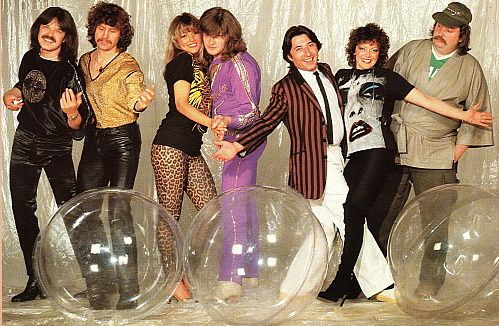 This album's set of songs struck a perfect balance: it's hard to add anything to it and it's even harder to take anything away. This longplay became the band's most famous album in Eastern Europe; however, Western Europe began losing interest in "Neoton Família" so English versions of the band's albums kept being released solely in Japan, with only a single titled "Atra", a song that was contributed to the soundtrack of 1981 French/Canadian movie titled "La Guerre Du Feu", being an exception. This song is one the best pop ballads the band composed; it was released internationally not only in Japan, but also in France and Brazil. 
In January 1983 Éva Pál left the band, seemingly taking a part of the band's unique charming sound with her. And, despite her being replaced with not one but two singers, Erzsébet Lukács (born 17.07.1966) and Janula Stefanidu (born 09.12.1952), the vocals would not sound as vivid as before from that point on. However, the band won 1983 YAMAHA contest in Tokio with the new lineup and a duo of Éva Csepregi and Ádám Végvári singing "Holnap hajnalig" ("Time Goes By"):
an important achievent for the band followed by a Latin American/Cuban tour. "Holnap hajnalig" was included in the band's seventh longplay which turned out to be a bit less impressive than the preceding longplays while keeping a similar pop sound. It contained a beautiful instrumental "Halló, Mr Yutani", rhythmic "Mamma mia", folk flavoured "Margaréta" (or "Veszekszik a mama"), rock influenced "A Tigris" and a dancing hit "Szeretek ugrálni" ("I Love Jumping"). Another song included in the album, "Egy kis nyugalmat", was a cover of 1982 Eurovision winning song "Ein bisschen frieden", originally performed by a German singer Nicole. Nicole's producer, Ralph Siegel of Jupiter Records, was captivated by "Neoton Família"'s talent, allowing them to include Hungarian and English cover versions of his winning song in their albums. As a sidenote, Nicole also participated in YAMAHA'83, taking sixth place. 
In 1983 the band also released a single titled "Sandokan" with a song based on an opening theme of "Sandokan, Tiger Of The Seven Seas" 1976 TV miniseries starring Kabir Bedi, which was popular in Europe. In fact this miniseries was so popular in Hungary that "Sandokan" single sales hit a national all-time high (with about 400.000 copies sold) that stands to this day. 
By Mikhail Badanin and Kirill Babanin
Translated into English by Andrey Sinelnikov