Neoton Familia producer Péter Erdős died in 1990, and soon the band announced they are breaking up. That was most likely caused by financial and leadership issues troubling the band. Shortly before that, in 1989, a book about "Neoton Família" titled "Családregény" ("Family History") written by Tibor Borzák and István Ambrózy saw release. The band actually did split into two individual bands that played similar music instead of just ceasing to exist altogether. László Pásztor, György Jakab, Gyula Bardóczi and newly recruited guitarist Miklós Borhi formed a band called "Új Neoton" ("New Neoton"). Andrea Szulák, a popular Hungarian singer, actress and TV host, became a singer for this new band. In 1990 they released a nine-track album titled "A trónörökös"("Heir to the Throne"), which went under the radar and remained their single record. Éva Csepregi, Ádám Végvári, János Baracs and Edina Schäffer along with a new singer Renáta Rajcs formed a band called "Éva-Neoton". This band turned out to be more productive: it was around for several years, releasing four albums, two cover compilations and an audio tale.
"Kalapot fel!" ("Your Hat!", 1990), their debut album, was electro pop-styled, following up on the music of "Neoton Família". It contained 11 dancing songs,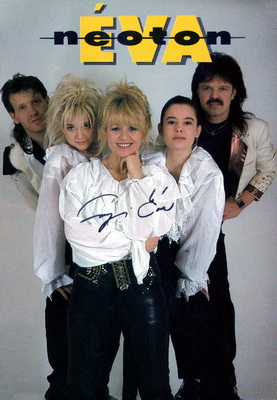 with catchy "Egy kicsit szemtelen" ("Mischievous One"), "Kalandorok kiméljenek" ("Adventurers Reserved") and "Ne tekints le rám, Uram" ("Oh Lord, Don't look at Me"), romantic "Itt vagyunk" ("We Are Here") and "Fúj a szél" ("The Wind Blows"), and rockish "Visszatér Dániel a hadseregből" ("Daniel Rejoins the Army") being the most remarkable. This debut album was soon followed by a second album titled "Édentöl keletre" ("East of Eden"), containing even more distinguished songs: cheerful dancing songs like "Édentöl keletre", "Kyokushinkay" and "Nem megy tovább" ("Do Not Go Further"), lively "Levegöt!" and "Táncolnék veled" ("Dancing With You") and pop ballads with ar rock sound "Sohase gondolj rá!" ("Don't You Ever Think About It!") and "Veszedelmes vagyok". This album was less atmospheric than the first one; on the other hand, it was the most colourful of the band's albums.
One year later it was followed by the third album of Éva's band, "A kocka el van vetve" ("The Die Is Cast", 1991). It contained 11 tracks just like two previous albums of "Éva-Neoton". The most memorable songs are opening song "Vard ki a veget", romantic "A Mérleg jegyében", catchy "Zavaros idök" and "Eduardo", employing Latino rhytms. The third album turned out to be less interesting than two previous, and decent arrangements went flat without memorable melodies. That was probably the reason the next album, "A sárkánykirály birodalma" ("Land of the Dragon"), was a musical fairytale journey to the magic land of the East containing eight revelatory songs ("Song of the King", "Song of the Plants", "Song of the Fish" and so on).
These were dancing songs employing Korean folk instruments. This album was really popular in Korea and Hungary both. 
The last of the band's longplays, "Minden Megoldás Érdekel"("Everyone Needs a Solution"), was released in 1992, being essentially a harsh electro pop tinged somewhat by a rock sound. The sole memorable, smooth track on this album was "Kedvenc Dalom", and the other almost openly lowbrow tracks are hardly worth a mention. The band clearly ran out of steam, so it needed either a break or some fresh blood. Éva Csepregi's band chose the first option, releasing two compilations of Hungarian cover versions of songs originally sung by "ABBA" (1992) and "Boney'M" (1993). In 1992 Éva Csepregi gave birth to a son, David, so the band recorded the latter of these two compilations without her. In 1993 the duo of Ádám Végvári and Renáta Rajcs released a rather successful album titled "Adam és Renáta" for the band to stay relevant. Yet it was obvious for everyone that "Éva-Neoton" has run its course, so its members soon switched over to their solo careers.  
By Mikhail Badanin and Kirill Babanin
Translated into English by Andrey Sinelnikov